Born in Tokyo in 1915. After graduating from Tokyo Art School (now Tokyo National University of Fine Arts and Music), joined Sakakura Junzo Building Research Institute in 1942. Established Yuyuan Industrial Design Research Institute in 1950. After that, he designed the prototype of the butterfly stool, after several years of research and development, it was announced at the Yanagi Industrial Design Study Group exhibition held in Ginza Matsuya in 1956. In 1958, a butterfly stool was selected as the permanent collection of the Museum of Modern Art, New York. In 1977, he took over as the director of the Japanese museum which was established by Mr. Muneyoshi Yanagi, my father. In 2002 he received the Cultural Achievement Award.
1915
Born in Tokyo as the first son of Soetsu Yanagi, the father of the Mingei (folk art) movement, and Kaneko Yanagi, a vocalist.
1940
Graduated from the Oil Painting Dept. at Tokyo Fine Arts Schoo.l (now Tokyo University of the Arts)
1941
Traveled throughout Japan as an assistant to Charlotte Perriand, who was invited by the Department of Commerce and Industry to study and instruct in folk art. This learning experience would become an inspiration for Yanagi's future design method.
Around 1946
Began research on industrial design.
1953
Established a foundation known as the Yanagi Design Office.
1977
Appointed as director of the Japan Folk Crafts Museum.
2002
Received the honor of "Person of Cultural Merit".
2011
Passed away at the age of 96.
As a founder of the modern industrial design method after World War II, Yanagi created numerous industrial products that were valued as "tools for living," including furniture. Moreover, he was a powerful advocate for design workshops. His design expertise also extended to automobiles, pedestrian overpasses and the platform for the Olympic flame used at the Winter Games in Sapporo, Japan. His "Butterfly Stool" is famous as the first piece of work for which a Japanese designer received global recognition.
---
Products
---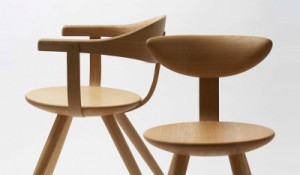 SORI YANAGI COLLECTION